About St. Paul's Children's Center
St. Paul's Children's Center is a fully licensed preschool accommodating children aged 2.9 to 5 years.
During the school year, the St. Paul's Children's Center operates a preschool, fully licensed by the Massachusetts Department of Early Education and Care.  Enrollment is flexible. Children may attend 2, 3, 4 or 5 full or half days. The director is Lisa Kane who began her career at St. Paul's Children Center in Stockbridge in 1984 as a preschool teacher, and became its director in 1987.
A little history of St. Paul's Children's Center:
With the sole intent of establishing a nondenominational day care facility that would serve as an outreach program to the community, St. Paul's Children's Center was formally founded in 1972, by a group of dedicated parishioners who were determined to succeed. Such a daunting task required years of perseverance and a commitment to a vision of a day care facility that would serve the needs of the community at large.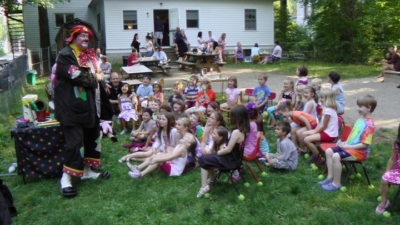 Under the leadership of Mrs. Curtis R. (Patricia) Buttenheim, the Center officially opened its doors in June of 1972. The subsequent success of the venture inspired the Rector, Dr. G. Douglas Krumbhaar, to remark that "the day care center is off to a rousing start and seems to be filling a void in our community." The next few years proved crucial to the center's survival. While the financial struggle was not easy; complying with new state mandates and building codes, the revamping of programs, and the constant re-scheduling of staff to meet the demands of ever-changing lifestyles of families presented even greater challenges.
Gradually, under the careful guidance of Rev. Theodore H. Evans, the center became self-sustaining and slowly enjoyed constant growth.
Today, with its direction now clearly defined, we are beholden to its dedicated, professional and fully certified teaching staff which oversees the day-to-day operation of the center. Known for its warmth and flexible scheduling, St. Paul's Children's Center offers the fundamental basics and is a place where children learn and grow in a loving and secure environment in a most picturesque setting.
For more information, please telephone the Director, Lisa Kane, at 413-298-4639.