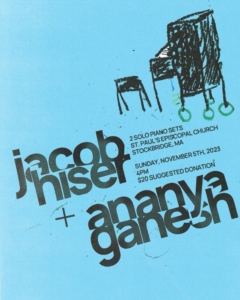 A versatile pianist from the Boston area, Jacob grew up playing bluegrass, country, blues, rock, and European classical music, eventually falling in love with jazz as a teen. He studied at Missouri State University and New England Conservatory and is currently collaborative piano staff at Phillips Exeter Academy and Boston Children's Chorus.
Ananya Ganesh is an improviser from Madras based in North America. Playing with and at the limits of the ear and of embodiment, their work unfurls as expressions of indeterminacy, spontaneity, and the joys of dissonance and (in)access. Ganesh sculpts open forms through the explorations of dynamics, texture, density, registral color, imbricated lines, and sparseness.
Jacob says he strives to create webs of connection between voices near and distant, in time and space and genre, tracing threads of musical lineages and kinship, particularly highlighting those invisible threads who tend to be overlooked or forgotten.   With these two musicians, we are sure to enjoy an interesting, enlightening, and unforgettable afternoon!